Events
Aug. 8-Sept. 6, 2014 6:00 pm-10:00 pm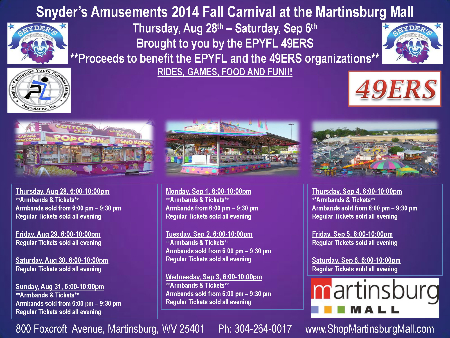 The 2014 Fall Carnival returns to the Martinsburg Mall from August 28, 2014 to September 6, 2014 and a portion of proceeds from the carnival will benefit the EPYFL and the 49ERS Organization!
The EPYFL and the 49ERS organizations created a special promotion going on each day while the carnival is at the mall. Stop by the mall office between 10:00 am and 5:00 pm each day while the carnival is at the mall to purchase a packet of 40 tickets for only $20.00. However, once the carnival opens for business each day at 6:00 pm, tickets will be sold at regular price. These packets will be on sale throughout the entire time that the carnival is at the mall. If you have any questions, please feel free to call the mall at 304-264-0017.
Walmart Parking Lot
6:00 pm-10:00 pm
September 6, 2014 (4:00 pm-6;00 pm)
Mean Studios in conjunction with Good Looks Barber Shop present: "2014 Fall Fashion & Hair Show"
With performances by: KRU3H
Music by:Page Promotions
Participating Stores: J.C. Penney's, Rue21, Hot Stepper & More!
September 6, 2014
4:00 pm-6:00 pm
Gazebo Area